The World of Babyghost: A Fashion and Art Fusion
In the world of modern fashion, where imagination knows no limitations, a distinctive and alluring brand that blurs the barriers between fashion and fine art has emerged. Welcome to the captivating world of Babyghost, a brand that has come to represent creativity, visual appeal, and an avant-garde mindset. We will delve further into the world of Babyghost in this blog post, learning about its history, distinctive aesthetic, and the impact it has had on the fashion industry.
Origins & Inspiration:
Every significant fashion brand has a backstory, and Babyghost's is one of collaboration and ambition. Babyghost was created in 2010 by the dynamic team of Qiaoran Huang and Joshua Hupper, fusing Huang's Chinese and Hupper's American backgrounds. Babyghost's particular aesthetic, which is distinguished by a harmonious fusion of Eastern and Western inspirations, is built on this cross-cultural amalgamation.
The Expression of the Arts:
The unusual look of Babyghost is a reflection of the designers' dedication to breaking rules and embracing contrasts. Streetwear and high fashion, softness and edginess, tradition, and modernity all come together beautifully in their creations. Babyghost creates its own aesthetic language that appeals to both fashion fans and art connoisseurs by skillfully fusing unexpected elements, like exquisite lace, with urban designs.
Fashion as an Artistic Medium:
Babyghost views fashion fundamentally as a medium for creative expression. The company's runway exhibitions frequently progress beyond simple outfit displays and become immersive art projects. Collaborations with musicians, visual artists, and even architects have produced breathtaking performances that upend expectations and astound audiences. By using this method, Babyghost elevates its creations from simple clothing to wearable works of art, fusing the worlds of fashion and performance art.
Influence of Celebrity Endorsements Worldwide
Success in the ever-changing world of fashion is characterized by recognition. Babyghost has developed a devoted fan base and received support from well-known celebrities and influencers. This recognition has propelled the brand onto the world stage and paved the way for partnerships with significant retailers and high-profile fashion shows. Babyghost's ability to fascinate audiences across the globe is evidence of its broad appeal and avant-garde design ethos.
 Babyghost's Responsible Journey:
Fashion firms must implement sustainable practices in this age of increased environmental awareness. Babyghost meets this difficulty head-on by utilizing environmentally friendly components and moral manufacturing practices. This dedication to sustainability not only resonates with modern principles but also adds depth to the brand's positioning.
Joint Projects:
Babyghost's proclivity for interdisciplinary cooperation is a fundamental component of its attractiveness. The company's partnerships with photographers, artists, and other creatives provide a diverse design perspective. Babyghost captivates a larger audience that demands both fashion and creativity by incorporating many viewpoints into their collections and bringing new life and inspiration to their designs.
The inclusive vision of Babyghost for redefining gender norms
Another notable feature of Babyghost's worldview is its rejection of conventional gender standards. The company adopts an inclusive philosophy and blurs the distinction between feminine and masculine aesthetics. Babyghost enables wearers to express themselves genuinely without being constrained by social norms through androgynous patterns and gender-fluid forms. This progressive attitude not only appeals to the younger generation today but also helps the fashion industry go in the direction of a more welcoming future.
The "Ghostie" Community's Ascent:
Fashion brands in the digital era care just as much about the community as they do about clothing. Babyghost has created a devoted following of followers known as "Ghosties." These devoted fans frequently work together on imaginative projects that exhibit how they have interpreted the spirit of Babyghost, and they all share a passion for the brand's distinctive image. .
Real Life from the Runways:
While editorials and runways frequently feature avant-garde clothing, Babyghost incorporates this creative sense into regular clothing. The brand's items flow seamlessly from high-fashion moments to street-style outfits. The perceived exclusivity of artistic apparel is given a new depth by this accessibility, which encourages people to incorporate creativity into their daily lives.
Beyond Fashion:
Babyghost's method offers a welcome change of pace in a society obsessed with passing fads. The company goes beyond the cyclical nature of fashion trends with its emphasis on artistry, culture, and uniqueness. Babyghost pieces have an enduring nature that enables wearers to make statements that endure through seasons and years. This persistent appeal appeals to a mindful consumer base looking to spruce up their wardrobe with long-lasting, significant pieces.
Conclusion:
Brands like Babyghost are living proof that clothes can be a potent form of artistic expression in a world where fashion has progressed beyond the realm of need. Babyghost has made a space for itself with its fusion of cultures, avant-garde aesthetic, and dedication to sustainability that defies categorization. One thing is certain as we watch this fascinating company develop: Babyghost will keep challenging, inspiring, and enchanting us by blurring the barriers between fashion and art.
"Men's Half Cab Vans": A Classic Icon of Skater Style
The Men's Half Cab Vans perfectly captures the essence of skater fashion, because skateboarding culture and fashion have long been entwined. This legendary sneaker has stood for disobedience, uniqueness, and unadulterated originality for decades. We will examine the origins of skateboarding culture, the development of the Men's Half Cab Vans, and its influence on fashion and way of life as we delve into the past and ongoing appeal of these shoes.
Vans' Brief History
Let's first explore the history of the Men's Half Cab Vans before moving on to the brand itself. Paul Van Doren and his partners created Vans in 1966, and the company has a long history steeped in Southern California's skating and surf scenes. The Van Doren Rubber Company, the brand's first outlet, opened in Anaheim, California, and rapidly became a mecca for skateboarders and surfers looking for sturdy and reasonably priced footwear.
Skateboarders in California began to recognize the popularity of Vans in the 1970s as a result of the company's dedication to producing footwear that could endure the demands of their demanding sport. The business had a significant role in the creation of shoes made especially for skateboarders, contributing significantly to the early development of the activity.
The Development of the Half Cab
The debut of the first Vans Caballero in 1976 was a turning point in both the history of skateboarding and Vans. In honor of the illustrious skateboarder Steve Caballero, the Caballero, commonly referred to as the "Full Cab," was created. These high-top shoes were created to provide skateboarders the board feel they required while also offering ankle support and protection. They rapidly became well-liked and a favorite of skaters.
Vans did, however, introduce a ground-breaking Caballero variant in 1992 with the Half Cab. The shoe's namesake, skateboarding legend Steve Caballero, was already well-known. His trademark vehicle, the Half Cab, was a more functional and streamlined variant of the original Full Cab.
The Half Cab's mid-top design, which offered skateboarders the ideal combination of ankle protection and maneuverability, was its defining characteristic. The Half Cab immediately gained popularity and became a favorite among both skateboarders and sneaker fans thanks to its striking design and distinctive silhouette.
The Impact of the Skate Culture
Half Cab for Men Vans personifies skate culture, which is known for its independence, rebellious attitude, and dedication to pushing limits. The sport of skateboarding itself is a manifestation of artistic freedom. Vans acknowledged this and supported and promoted the development of the skating community through their Half Cab concept.
The Half Cab was an expression of skateboarders' wants and demands. It was more than simply a pair of shoes; it represented the skater's way of life and attitude. The shoe was a vital component of any skateboarder's equipment because of its durability, traction, and style, which let them perform better and express themselves via their sport.
Long-term Popularity
The Men's Half Cab Vans have been popular for an incredibly long time in the ever-evolving world of footwear and clothing. What has allowed this shoe to persist and keep its iconic status for over three decades?
Timeless Design:
The Half Cab features a basic, elegant design that never goes out of style. Its mid-top style, unmistakable side stripe, and heel-mounted Vans logo make it easy to recognize. The shoe is simple to wear with a variety of styles and outfits thanks to its versatile design.
Versatility:
The Half Cab has made its way into high-end fashion outside of the skatepark. Because of its adaptability, it can be worn in a range of situations, from casual outings to more formal events. Its versatility has contributed to its continued appeal.
The Half Cab has always been known for its comfort and durability. These sturdy sneakers provide excellent support for skating or just strolling about.
Endorsements:
Vans has worked with numerous skaters and artists throughout the years, creating limited-edition Half Cab models that appeal to various subcultures and preferences. Through these partnerships, the sneaker has remained current and appealing to a wide spectrum of customers.
Reminiscence:
Many people have fond memories of the Half Cab Vans. The shoe is frequently associated with happy memories for adults who learned to skateboard in the 1990s, and many still wear them now. The Half Cab's continued significance has been aided by this sentiment of nostalgia.
Limited editions and collaborations
Vans has a long history of working with well-known members of the skate and streetwear communities to create limited-edition Half Cab models that have received a lot of praise and attention. Skate culture is frequently combined in these partnerships with other forms of art, music, and fashion. Here are a few noteworthy instances:
Supreme x Vans Half Cab:
Supreme, a streetwear company, has frequently teamed up with Vans to create some of the most coveted Half Cab models. These partnerships frequently have striking designs that capture the attention of collectors and followers of both companies.
Renowned fashion designer Jerry Lorenzo and Vans worked together to create the Fear of God x Vans Half Cab, which combines skate aesthetics with high-fashion sensibility. The resulting shoe presents a distinctive and opulent twist on the traditional Half Cab.
Vans x Disney:
Vans and Disney have collaborated to create a limited-edition line of Half Cab models that feature well-known Disney characters. The skate shoe now has a hint of nostalgia thanks to these collaborations.
Vans x Independent Trucks:
Through a collaboration with Independent Trucks, a reputable name in skateboarding, a line of Half Cab models was created that was modeled after the company's recognizable logo. This partnership honored the Half Cab's skateboarding heritage.
By bridging the gap between skate culture and other facets of popular culture, these collaborations not only demonstrate the Half Cab's versatility but also its ability to be a shoe that crosses boundaries.
The Fashion of the Half Cab
Although the Men's Half Cab Vans are still a vital component of skate culture, their influence has far surpassed the skatepark. The Half Cab has come to represent informal and streetwear fashion in the world of fashion. How it has left its mark is as follows:
Streetwear staples like The Half Cab are essential to the genre. It is a must-have for many street-style enthusiasts due to its unusual design and skate heritage, which are excellent complements to the streetwear ethos.
Casual Chic:
The Half Cab can be easily incorporated into everyday casual clothing thanks to its adaptability. It creates a casual yet fashionable style when worn with jeans, shorts, and even more formal outfits.
Iconic item:
The Half Cab frequently commands attention in street-style photographs, and its appeal to style-conscious people has cemented its reputation as an iconic item.
Vintage Appeal:
The Half Cab's timeless design evokes nostalgia and appeals to people who like retro or vintage trends. The quick-paced fashion industry of today offers a hint of the past.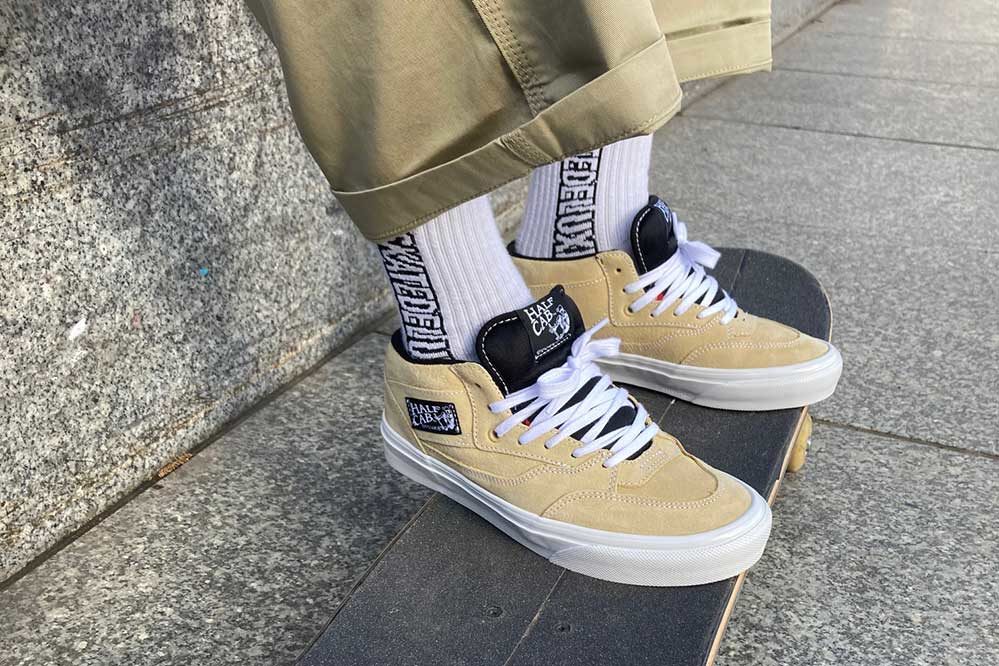 conclusion,
The Men's Half Cab Vans are more than just a pair of shoes; they are a representation of a vibrant cultural past, a case study in the ongoing value of authenticity, and a vehicle for individual expression. The Half Cab has crossed boundaries and generations from its modest origins in the Southern California skateboarding scene to its current prominence as a fashion icon with worldwide appeal.
The Half Cab's ongoing appeal may be linked to its classic style, adaptability, comfort, and toughness as well as a history that is firmly ingrained in the rebellious spirit of skate culture. The shoe has successfully made the journey from skateparks to street corners and from alternative culture to mainstream fashion, becoming a mainstay in many people's closets.
" Ray-Ban Sunglasses for Men" A Stylish and Iconic Choice:
Few companies can match Ray-Ban's notoriety and recognition when it comes to iconic eyewear. For decades, Ray-Ban has produced eyewear that expertly combines fashion and utility among their wide selection of sunglasses. We'll delve into the world of men's Ray-Ban sunglasses in this post, learning about their illustrious past, timeless design, and the different alternatives accessible to today's discerning, fashion-conscious guys.
The Evolution of Ray-Bans
Bausch & Lomb launched the American eyeglasses company Ray-Ban in 1936. The name of the company, "Ray-Ban," is a combination of the terms "ray" and "banned." Initially designed to shield pilots' eyes from damaging UV rays and harsh glare at great altitudes. However, they swiftly moved beyond their military roots and became a mainstay in the
The "Aviator," which debuted in 1936, was Ray-Ban's initial model. The Aviator set the bar for sunglasses that provided excellent eye protection and a dash of elegance with its timeless teardrop-shaped lenses and metal frame. Men of all eras have continued to enjoy wearing this timeless style.
In 1952, Ray-Ban added the classic "Wayfarer" model to their catalog after years of growth. Numerous celebrities and trendsetters have adorned their faces with this rectangular frame style, which has come to represent the company. The "Clubmaster" and "Round" models have additionally strengthened Ray-Ban's position as a pioneer in eyewear fashion.
The Classic Look of Men's Ray-Ban Sunglasses
There are a number of reasons why Ray-Ban sunglasses remain so popular:
Ray-Ban sunglasses are recognized for their timeless, unisex designs that withstand the test of time. Particularly the Aviator, Wayfarer, and Clubmaster designs have endured as favorites because of their seamless fusion of vintage charm and contemporary trends.
Versatility:
Ray-Ban has a large selection of frame and lens choices, so men can pick a pair that precisely matches their own sense of style. Everybody can find a Ray-Ban style, from imposing, enormous frames to svelte, minimalist ones.
The craftsmanship of the highest caliber:
Ray-Ban's dedication to excellence is visible in the quality of the materials they use and the accuracy of their workmanship. The sturdy frames, scratch-resistant lenses, and superior UV protection of many Ray-Ban sunglasses are all impressive.
Numerous celebrities and fashion icons have been photographed using Ray-Ban sunglasses over the years. This high-profile endorsement has strengthened the brand's standing in culture.
Exceptional UV protection is provided by Ray-Ban lenses, guaranteeing that you not only look nice but also take good care of your eyes.
Customization:
Ray-Ban offers a variety of lens and frame colors, as well as lens technologies including polarized and photochromic choices, allowing you to create unique sunglasses.
Men's Popular Ray-Ban Styles
Every style that Ray-Ban sells has a distinctive appeal. Let's look at some of the most well-liked choices for men: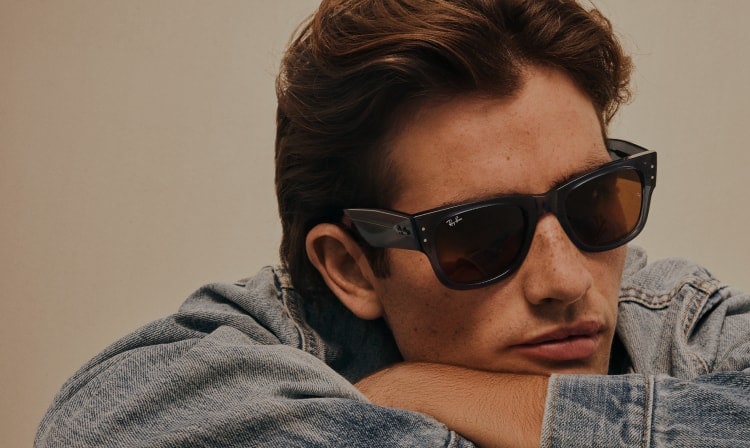 Ray-Ban Aviator:
The Aviator is still a representation of the classic style. It is easily recognized by its characteristic teardrop-shaped lenses and slender metal frame. This model is a great option for guys who desire a traditional, manly appearance with exceptional sun protection.
The Ray-Ban Wayfarer is arguably the brand's most recognizable style. Its strong, square-shaped frames are adaptable and provide a fusion of modern style and classic appeal. The Wayfarer is frequently chosen by men who value classic style.
Ray-Ban Clubmaster:
The Clubmaster mixes contemporary materials with the sophistication of a browline frame. It's the ideal option for men who value antique clothing.
Ray-Ban Round:
The Round Line pays homage to the 1960s counterculture fashions. Round lenses and a thin metal frame give these sunglasses a bohemian and artistic vibe. Men frequently choose the Round when they want to stand out and look unorthodox.
Ray-Ban Justin:
The Justin line offers a more relaxed and modern look thanks to its sporty, rubberized frame. These sunglasses are ideal for those who favor a casual, metropolitan appearance.
Ray-Ban Erika:
The smooth, rubberized frames of the Erika sunglasses have a somewhat large, circular form. They are a great option for males seeking for a casual yet trendy option because they have a more relaxed appearance.
Ray-Ban New Wayfarer:
A more modernized version of the traditional Wayfarer, the New Wayfarer features a slightly lower frame size. It's ideal for men who seek the legendary look of the Wayfarer with a modern touch.
Selecting the Best Pair
The right Ray-Ban sunglasses for you depend on your lifestyle, facial shape, and sense of fashion. Here are some pointers to assist you in making the best decision:
Face Shape:
When selecting sunglasses, take into account your face shape. Most face shapes normally look good in aviators and wayfarers, although angular faces are better suited to circular frames.
Consider the activities you'll be engaging in while wearing your sunglasses when choosing your lens technology. The great glare reduction of polarized lenses makes them perfect for outdoor activities, driving, and water sports. People who often switch between indoor and outdoor settings might consider photochromic lenses.
Frame Composition:
Ray-Ban provides sunglasses with acetate and metal frames among other materials. Pick a material that matches your comfort and fashion preferences.
Lens Color:
varied purposes can be achieved with varied lens colors. While lighter glasses work better on cloudy days, darker lenses offer superior protection in direct sunshine. Additionally, colored lenses can give your look a distinctive edge.
Explore the Ray-Ban customization choices to make your sunglasses uniquely yours. This can involve selecting a unique pair of sunglasses frame and lens colors.
The Everlasting Appeal
The capacity of Ray-Ban to change with the times while maintaining its heritage is the reason for its appeal's enduring popularity. The company has effectively modified its classic designs to fit shifting consumer preferences. Ray-Ban consistently provides solutions that appeal to a wide population, from traditional black frames to colorful hues.
Numerous famous people have been spotted wearing Ray-Ban sunglasses, to name a few: James Dean, Tom Cruise, and Brad Pitt. This celebrity endorsement has been crucial to the brand's continuing appeal and standing as a representation of carefree cool.
But it's not all about looks. Ray-Ban's dedication to excellence and innovation is shown in the technology used in their eyeglasses. High-definition lenses, sophisticated coatings for scratch resistance, and polarized or photochromic choices for more usefulness are all features found in many models.
The Ray-Ban Appeal for Men Is Everlasting
Ray-Ban sunglasses for men combine a sense of refinement with a raw allure. They do a great job of exuding confidence and style. Whether you're going to work, relaxing on a beach, or going out,
 conclusion,
Men's Ray-Ban sunglasses are a classic and durable option for eyewear that have withstood the test of time. The company has a long history that dates back to its beginnings as aviator sunglasses, and by continually fusing fashion with utility, they have become a favorite among men from all walks of life.
The enduring appeal of Ray-Ban is due to a number of things, such as its timeless and adaptable designs, fine craftsmanship, celebrity endorsements, and dedication to UV protection. Ray-Ban offers a wide selection of styles, such as the Aviator, Wayfarer, Clubmaster, Round, Justin, Erika, and New Wayfarer, to suit a variety of tastes and preferences.
"BHLDN Dresses" Elegance and Timeless Beauty
When looking for the ideal dress for that special occasion, BHLDN has established a reputation for class, sophistication, and ageless beauty. BHLDN dresses offer a selected selection that fits a variety of styles and tastes, whether you're a bride-to-be looking for the wedding gown of your dreams or an event guest. In this post, we'll examine BHLDN dresses in more detail and discuss why so many fashion-conscious people love them.
A Synopsis of BHLDN's History
BHLDN, which is pronounced "beholden," was established in 2011 and specializes in bridal and special occasion wear. It is a division of the renowned Anthropologie company, recognized for its boho and vintage-inspired style. In order to provide brides and party guests with a more curated, one-of-a-kind, and customized purchasing experience for their special day, BHLDN was founded.
The BHLDN Clothing Line
Bridal Gowns: For women looking for a variety of styles, from classic and romantic to modern and trendsetting, BHLDN's bridal gown collection is a dream come true. Their dresses frequently have beautiful shapes, delicacy of beading, and elaborate lacework. BHLDN provides options to suit your style, whether you picture yourself in a flowing bohemian gown, a sleek and contemporary design, or a classic ballgown.
Bridesmaid Dresses:
BHLDN offers a beautiful assortment of bridesmaid dresses in addition to serving the needs of brides. These dresses are available in a number of hues and designs, making it simple for brides to coordinate the appearance of their bridal party. There is something for every bridesmaid, from mix-and-match outfits to sophisticated dresses.
BHLDN hasn't overlooked the moms of the bride and groom when designing mother-of-the-bride dresses. Their mother-of-the-bride attire is made to strike the ideal chord of elegance, comfort, and style. They are aware that mothers are indispensable on the big day and should feel and look their best.
Guest Dresses:
Anyone attending a formal event will find a wealth of stunning alternatives in the BHLDN guest dress collection. You can select dresses that are both fashion-forward and tastefully classic for black-tie weddings, cocktail parties, and galas.
Accessories:
The correct accessories make any look complete, and BHLDN has you covered with a variety of accessories that go great with their dresses. from shoes and jewelry to veils and headpieces,
Why BHLDN Clothes Are Unique
Quality Craftsmanship:
BHLDN is committed to using high-quality fabrics and expert craftsmanship to create gowns of the highest caliber. Each dress is meticulously crafted to ensure that it not only looks lovely but also feels good to wear.
Designs:
BHLDN gowns frequently have original and creative designs that set them apart from the norm. Their dedication to offering something unique is visible in the dexterous lacework, considerate embellishments, and innovative styles.
Diversity:
BHLDN is aware that beauty comes in various forms and dimensions. Every person can select a dress that makes them feel confident and beautiful because they offer a wide range of sizes to appeal to a different audience.
Personalized Service:
As part of their dedication to providing outstanding customer service, BHLDN provides online consultations in addition to personal styling appointments in their shops. You can get assistance from their skilled team in locating the dress that fits your needs and sense of style.
Conclusion:
For individuals looking for elegance, sophistication, and timeless beauty for their big occasions, BHLDN dresses have earned their reputation as a top choice. BHLDN has won over the hearts of brides, bridesmaids, and partygoers alike with a wide variety of styles, excellent craftsmanship, and a dedication to diversity. When you select a BHLDN dress, you are making a decision about more than simply an outfit—you are making a decision about a celebration of your individual style and the beauty of your special day.